We live in a world today, where we almost completely and totally depend on our smartphones, for each and every task. It could be something as small as an app reminding us to drink enough water, or something as important as booking your nest vacation. Inevitably this has led companies and developers to come up with millions of new apps to cater to each and every one of our needs.
Most of us have at least one hundred different apps on our phones, including apps that promise to help keep the other apps organized. But even with all these apps, sometimes it takes us several minutes to just locate a file on our devices because of all the junk and other residue cluttering up our storage, disallowing us from taking anymore pictures or recording anymore videos. These extra junks can considerably slow down our device performance and eventually overheat the battery, causing the early demise of our increasingly expensive phones.
What is Fast Cleaner – Booster and Cleaner?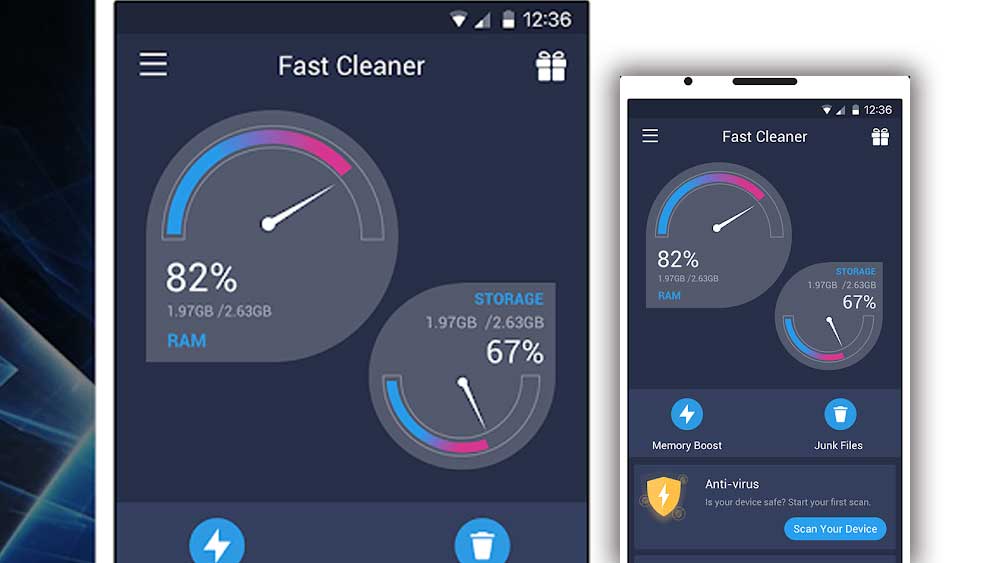 To clean up all this clutter and do so much more to protect our device health and the integrity and safety of the contents within, the app Fast Cleaner was designed and presented to us. The app is super simple to use and comes with an amazing and attractive interface featuring all its best services in a neat and clear format.
If you do not like Fast Cleaner application you will find many similar applications on play store and AC Market. Some of them are Clean Master, Cleanit, Nox Booster, Nox Cleaner, AVG Cleaner, Finally Clean Apk etc.
As you open the app on the top of the homepage you will see two interactive images that look like speedometers, the bigger one indicating the percentage of internal storage used, and the smaller one displaying the percentage of RAM used. When you click on each of them, a scan will be performed and all the junk and other files cluttering up the internal memory and the RAM will be listed for you to clear them all away with one click of a button. Below these are listed the other features which will be described in detail below.
Features of Fast Cleaner
Memory Boost: scans the device RAM for any unnecessary clutter and helps you clean them up, freeing up valuable RAM space for your other applications.
Junk Files: scans and clears away all junk files including cache files, which will provide you with extra space for your other files.
Battery Saver: lists out all the battery draining apps, and gives you the chance to freeze them until they are opened up by you.
Notification Cleaner: helps you organize your important notifications into a single tab, and block the useless ones from appearing.
AppLock: provides an extra layer of protection for your special apps that are at risk of being accessed.
Advanced Cleaning
Game Acceleration
Safe Browsing: Removes all the browsing data and blocks ads from websites.
Whatsapp Cleaner
Software Management
Ignore List
Download Fast Cleaner apk for free
First download and install latest version of AC Market. Here we are using an app store to install Fast Cleaner apk. Using an app store ensure future updates. Open AC Market and go to search. Then type Fast Cleaner. You will see that this application appears below the search. Select to open app page. Click on free download button. Once download completed you will redirect to installation.